I'm participating in Fun-a-Day, a daily art challenge through the month of January, committed to do a daily post here detailing some Big Art Idea or project that looms somewhere out in my future.
As you well know, I have a special affection for art that is in the realm of the Barely Controlled and Not-Quite Completely Safe. Art that in the mere viewing of, you take your life into your own hands. In that category is Rock Paper Scissors.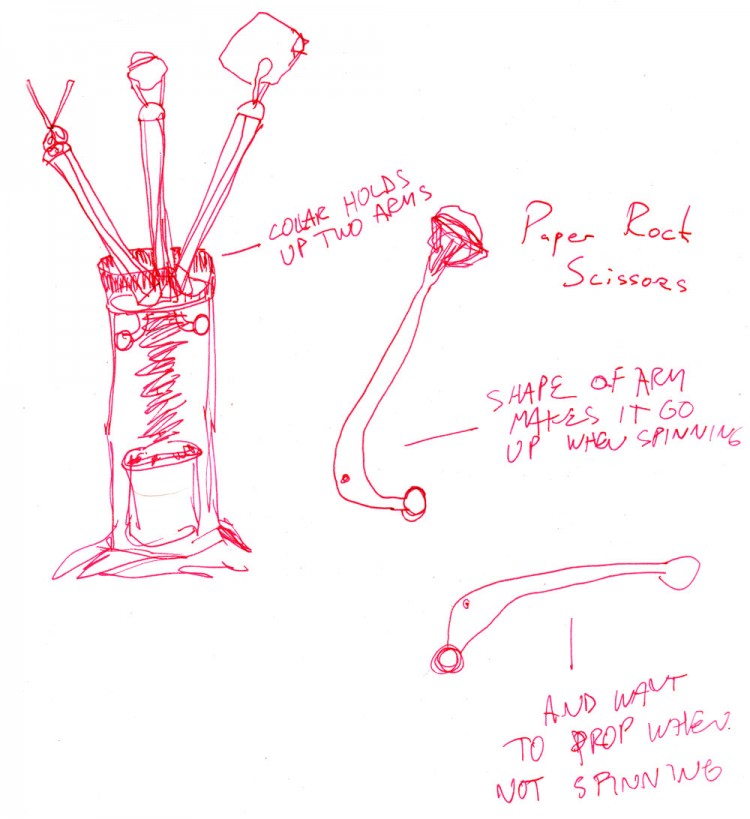 What's not to like? Dervishly spinning arms holding razor sharp scissors, a heavy stone, and flapping piece of paper?
I don't know if I am a genius enough mechanical engineer to design it so that the up-and-down arm balancing works only by spinning and stopping. But I can always consult with people smarter than me on these matters.
I love this. I can see it spinning and visitors squinting and half-shielding their faces the way people do when someone is trying to smash a ball-bearing with a hammer. I can imagine the -KA-CLUNK!- when the chosen arm falls into position. I can imagine building more than one so they can compete roshambo against each other.