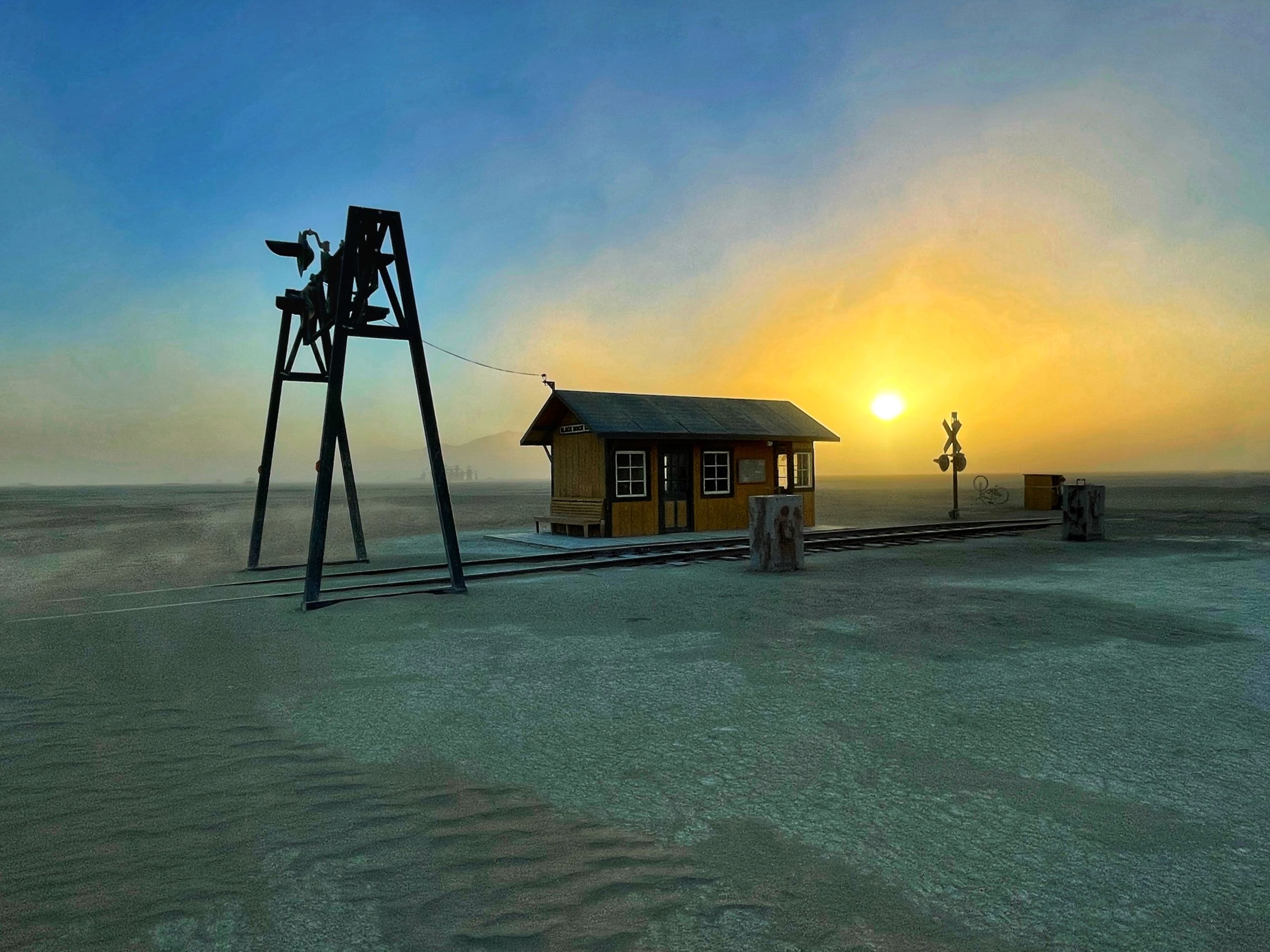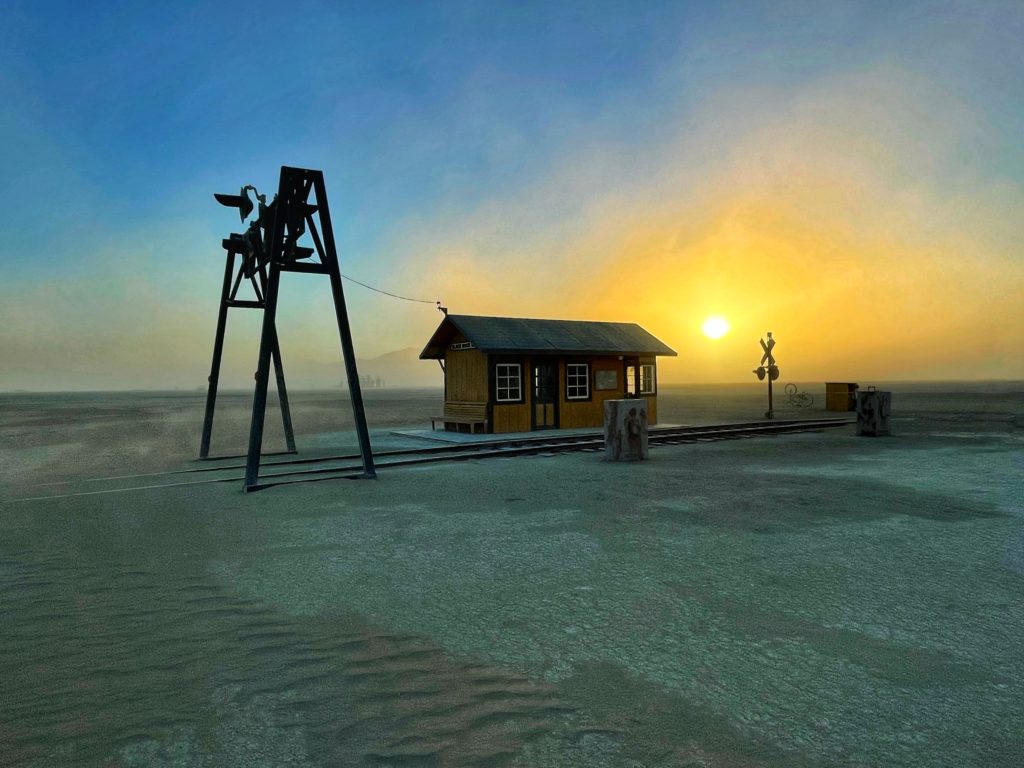 A mysterious rural train station appearing in the Black Rock Desert has become unstuck in time, haunted by ghost trains heard but not seen.
Built in the mid-1930s to serve Black Rock City and the communities scattered throughout the vast Black Rock Desert, the station is unstable and oscillating through various moments over the last 150 years and beyond, with an ever-shifting interior life, and a subtle narrative that subverts conventional histories.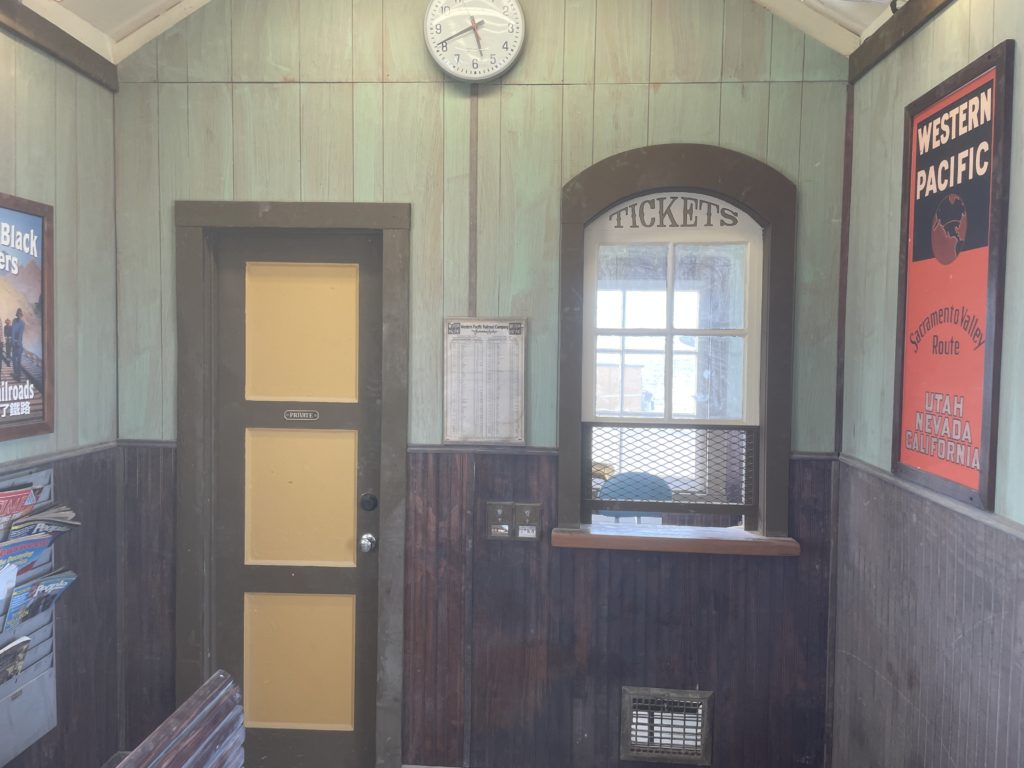 Black Rock Station is complete with a length of track, a platform, benches, a working signal bridge, and two working crossing signal masts. Inside, the station will have the faded elegance of an authentic train station existing in the 1982 narrative frame, including a station clock, bench, train schedules, TV, and ticket window. A dusty vision of incongruous normalcy brings up the piece's first mystery: How did this get here?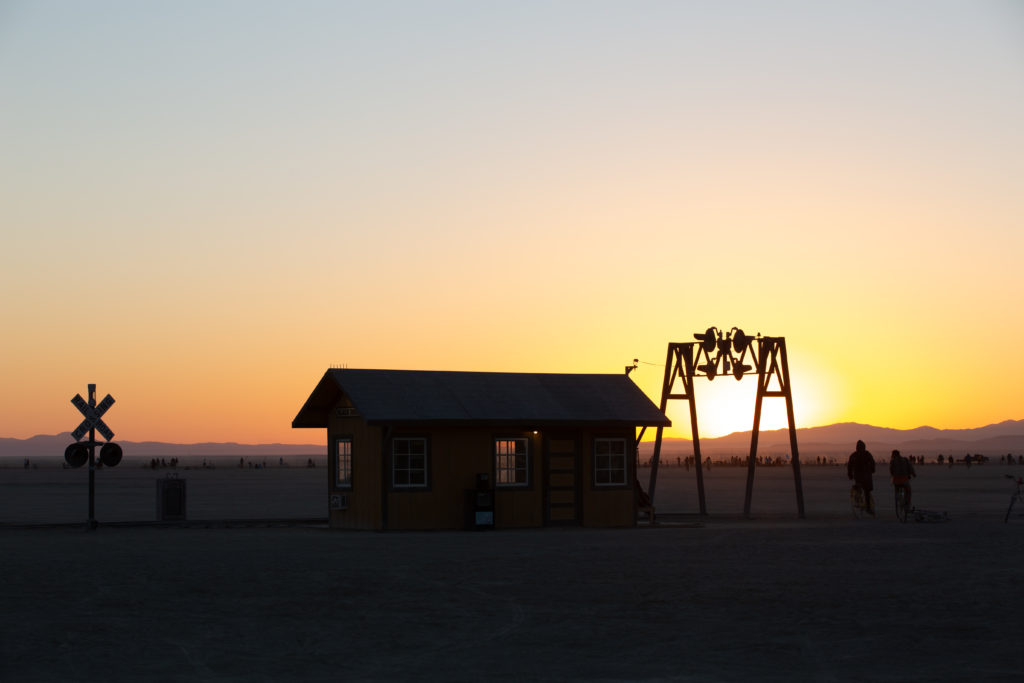 Project Vision
Black Rock Station is an interactive site-specific installation that uses northern Nevada's railroad history and the playa's harsh and beautiful environment to create a memorable and mysterious experience for participants. It follows in the contemporary art tradition of installation art that is uncommodifiable, interactive, and participatory. It subverts expectations and encourages and rewards curiosity.
The work is a mystery for people to unravel. Adding to the authenticity of its visual elements, Black Rock Station is also a sound piece. Visitors hear freight and passenger trains approach and depart at real-life volumes with announcements and floating bits of audio and musical clues. As the station cycles through time, pausing briefly in one of 8 moments over a 250-year period from 1858 to 2110, visitors catch snippets of mysterious audio or video, or explore ephemera in the station.
The piece playfully suggests critical questions including:
What do we really know about our shared history?
What alternate futures and pasts are possible?
How do we reexamine what we think we know about history?
Whose history gets recorded and told?
How can we use travel (though time or place) as a metaphor for our own journeys?
Black Rock Station is a fully-immersive piece embracing all the senses to craft a subtle and open-ended narrative in which visitors are encouraged to explore and discover. We believe that a sense of disorientation and out-of-placeness is central to the Burning Man experience (becoming harder and rarer to find), and opens the door to unique and epiphanous experiences. Our hope is that visitors leave with a profound sense of wonder and disorientation about time and events. We hope visitors ask, "Where exactly am I? When am I?"