As I did last year, I'm participating in Fun-a-Day, a daily art challenge through the month of January — or in our area, where everyone is just a little late, we shift to Jan 15 to Feb 15.
The idea is to challenge yourself creatively every day for the month of January. Wherever you do your work, however you do your work –show up every day –and do it. It's that simple. How to challenge yourself is up to you – but do challenge yourself. And share your experiences. This is a fun and powerful experience if you allow it

Show up. Trust the process. Share it.
Last year, I sent a daily collage postcard to friends. I like collages well-enough (having hosted a monthly Free Skool collage party for many years), but really, I think I did collages because I couldn't think of anything better in a pinch.
This year, I was reluctant to fall back on one of my art go-tos. Really, what I wanted to do was spill out big ideas, art projects that have been scratching at the edges of my consciousness for a long time.
So I committed to do a (more-or-less) daily post here detailing some Big Art Idea or project that looms somewhere out in my future.
Some of these have been around for literally more than a decade, but one thing I know about me, looking at the empirical evidence, is that I get shit done, even if it sometimes takes forever.
Someone commented that my choice of Fun-a-Day project is pretty meta. So if that's true, this post is meta-meta, a post about posting about art ideas in the service of daily art.
And since, I didn't share with you any big art ideas, as a consolation, I offer you what happens when a friend entices me to eat psilocybin mushrooms before a thanksgiving feast we are hosting: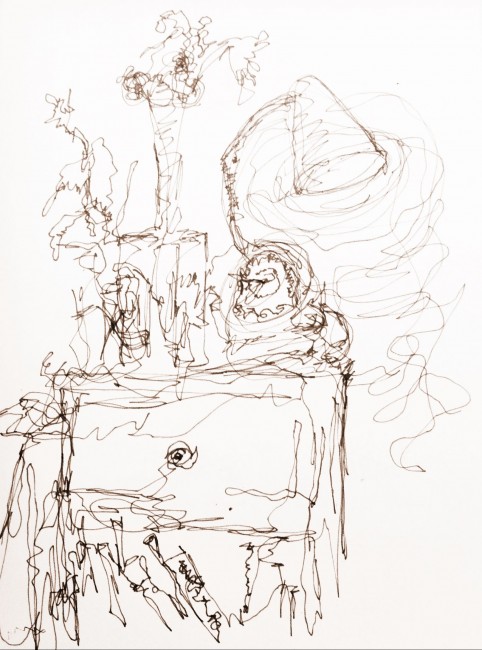 I found that rather than being annoyed and overwhelmed by guests or watching the bathroom wallpaper crawl, I was content to sit in my papasan chair in a corner and sketch.