A Santa Cruz collaborative street performance in March 2002 with over a hundred clowns who took to the streets to demand their rights. I conceived and organized the march with friends at the Big Yellow House.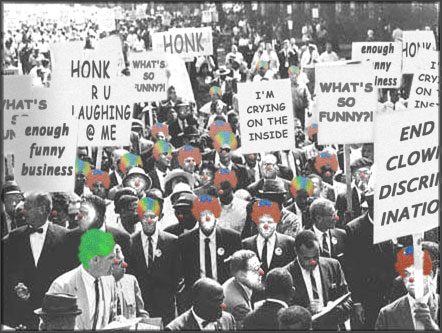 The Santa Cruz Sentinel reported the following day:
Years of latent frustration in the clown community broke through the surface Saturday afternoon as a tide of bulbous noses, tri-colored wigs and oversized pants swept down Pacific Avenue.

Some 80 normally jolly clowns, supported by the buzz of a dozen kazoos, sought to make their plight public and turn the fortunes of clowndom toward a brighter future.

"You are born a clown," said organizer Rico Thunder. "And for those brave enough to be out as clowns, the world can be a cold and unwelcome place."

"As long as one clown is oppressed, no man is free," Thunder continued.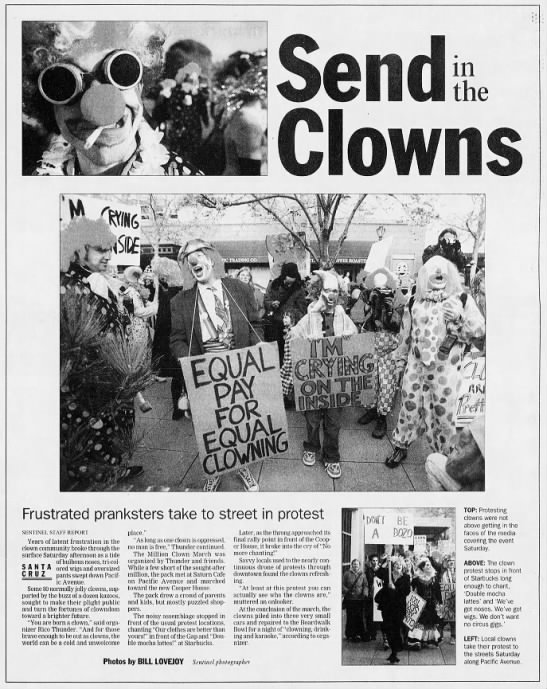 The Million Clown March was organized by Thunder and friends. While a few short of the sought-after million, the pack met at Saturn Cafe on Pacific Avenue and marched toward the new Cooper House.

The pack drew a crowd of parents and kids, but mostly puzzled shoppers.
The noisy assemblage stopped in front of the usual protest locations, chanting "Our clothes are better than yours!" in front of the Gap and "Double mocha lattes!" at Starbucks.

Later, as the throng approached its final rally point in front of the Cooper House, it broke into the cry of "No more chanting!"

Savvy locals used to the nearly continuous drone of protests through downtown found the clowns refreshing.

"At least at this protest you can actually see who the clowns are," muttered an onlooker.

At the conclusion of the march, the clowns piled into three very small cars and repaired to the Boardwalk Bowl for a night of "clowning, drinking and karaoke," according to organizer.
The Million Clown March received unprecedented attention, garnering media reports from numerous media sources, both national and international.
We have noses, we have wigs!
We are tired of circus gigs!