I'm participating in Fun-a-Day, a daily art challenge through the month of January, committed to do a daily post here detailing some Big Art Idea or project that looms somewhere out in my future.
Thanks to artists in Boston who took us in, sheltered and fed us, and inspired us to create something magical for our own town.
Several years ago I went with Sia to Boston. It was part of a trip to Brown University in Providence to be part of an art show with Harvey Pekar in connection with the SDS illustrated history book. As I told Sia, our entire budget for this trip is $500 and we spent $550 on plane tickets, so this was not going to be a trip filled with luxuries. There was a distinct possibility of sleeping under bridges and eating out of dumpsters.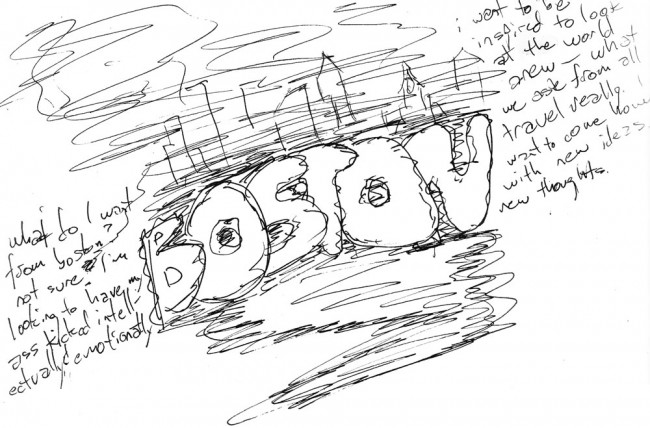 We traveled from Providence to Boston on the train, having the phone number of a single friend-of-a-friend contact in Boston. Immediately, we looked up the local infoshops and radical projects and tried to make connections.
There was the Lucy Parsons Center in Back Bay, the Papercut Zine Library in Cambridge, Bikes Not Bombs in Jamaica Plain, and a few other projects I forget now.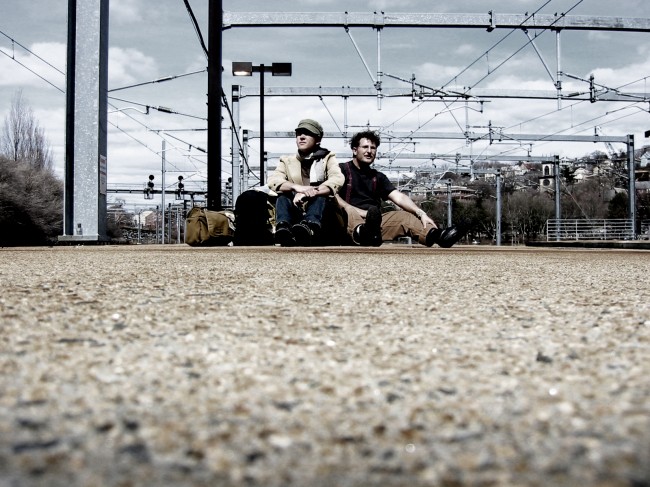 We got tired pretty quickly of walking miles around the city of Boston with our huge packs. Right away, on the bulletin board at the Lucy Parsons Center, we saw a handmade flier that said, "Want a DIY BIKE TOUR of Boston? Call me!" So we did. We arranged to borrow bikes and get a round-the-city bike tour with our new friend.
And we finally got a call back from our friend-of-a-friend, who said "Heck yeah, come over! I'd love to have you stay with me." She was warm and welcoming.

So within a few hours of arriving in Boston, we had bikes and a place to stay and a handful of friendly contacts.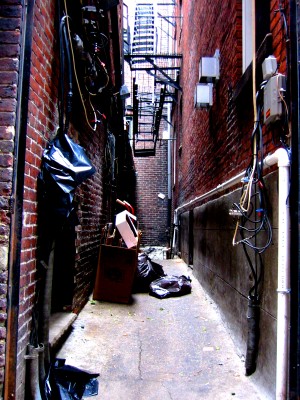 Boston treated us well: A few days into our Boston visit, Sia and I had just heard a talk by Howard Zinn and Amy Goodman downtown. We were famished and biking to some good dumpsters on the western outskirts of Boston, but we totally got lost on the way. We were stuck in this maze of freeways and construction and one way streets and concrete barriers and Boston's weird habit of barely labeling streets and counter-intuitive geography and a haze of low-blood sugar.
We'd been eating nothing but hard-boiled eggs for days after having scored a crate of eggs from a Trader Joe's dumpster.
As we biked around the urban wasteland, the neighborhood suddenly turned quaint. From my studies of our mysterious Boston maps, I realized we'd somehow found ourselves in Boston's tony Beacon Hill. It was late and everything was closed. As we biked through the empty cobblestone, gas-lit, revolutionary war-era streets, we passed a closed fancy gourmet pizza place…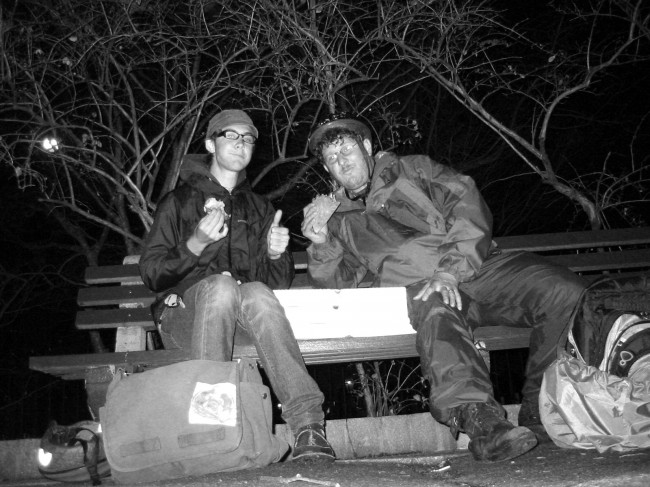 Sitting on a bench in Boston Commons, eating our way through three still-warm gourmet pizzas, with portabella mushrooms, feta cheese, sun-dried tomatoes, fresh pesto, we were in heaven.
Though I came to Boston hoping to make rad friends and contacts, of getting fired up by radical, anarchist and DIY projects, we had a hard time connecting with folks in the radical community.
I guess, this shouldn't have surprised me. The anarchist scene is notoriously hard to break into even when you live in a place, even when you are doing awesome things and have lots of time on your hands to mingle and get to know people. Arriving cold, with no real contacts for a week-long visit we experienced predictable results.

We met more art folks than people in the radical scene. Unsurprisingly. Most of the artists I know are charming and extroverted, easy and willing to engage near-strangers in the intimate details of their lives.
Our charming host was an artist who was showing in several galleries simultaneously and working on some larger collaborative projects. We talked for hours. Some of the themes that emerged in these conversations were art and community, connectedness, historical momentum and documentation.
She said, "If you don't document art, any newcomer in town is not going to know that Santa Cruz has a vibrant art community that exists largely outside of the gallery grind." Document, she said, and the artists in town, new and old, will have a sense of momentum — a sense, that in spite of the lack of art galleries, art buyers, art patrons, art grants, art money, that this town has a lively habit of blurring the boundary between art and life.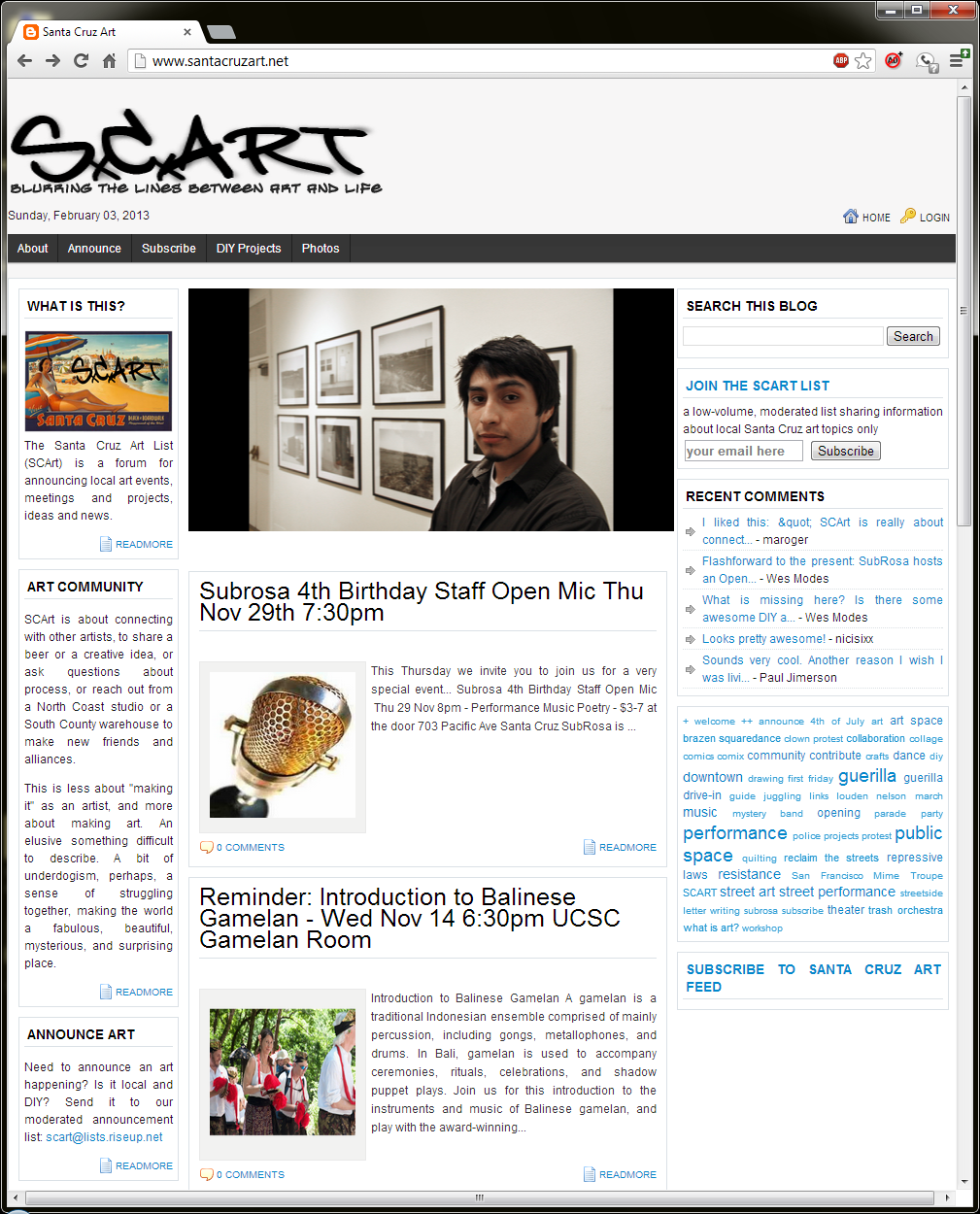 I came home inspired to create the Santa Cruz Art List, an attempt to document some of the non-institutional creative efforts of artists in Santa Cruz.
But beyond documentation, this is about community and connection. SCArt is really about connecting with other artists, to share a beer or a creative idea, or ask questions about process, or reach out from a North Coast studio or a South County warehouse to make new friends and alliances.
This is less about "making it" as an artist, and more about making art. Its all about this elusive something that we have a difficult time describing. A bit of underdogism, perhaps, a sense of struggling together, of changing the world through art, of making the world a fabulous, beautiful, mysterious, and surprising place.
I thought it would also be a great place for artists to announce art events to other artists.
Need to announce an art happening? Is it local to Santa Cruz? Is it non-institutional? Non-commercial? Do you do performance? Conceptual art? Non-commercial music? Want to join a discussion focusing on the process of making art and building community? We prefer to focus on the cathartic process of creating art, collaboration and community, conceptional art and performance.
Will SCArt feature public guerilla art? Certainly. Public performance? Absolutely. Creative groups operating outside of the realm of commerce? For sure. Street art? Street music? Yes and yes. Announcements for gallery shows? Sure, though we wouldn't want that to be the bulk of what we're doing here. How about city-sponsored events? I hope not, but who knows. Awesome bands playing at Moe's Alley? Probably, not.
So SCArt has been around now since well, a bunch of years now. I think it is a good concept, but I'm missing whatever it takes to bring it to the next level.
Creating something useful, is not the same as having something used and relied upon. How to get to a place where local artists use SCArt to connect with other artists, announce projects and shows, and document their work? I don't know.