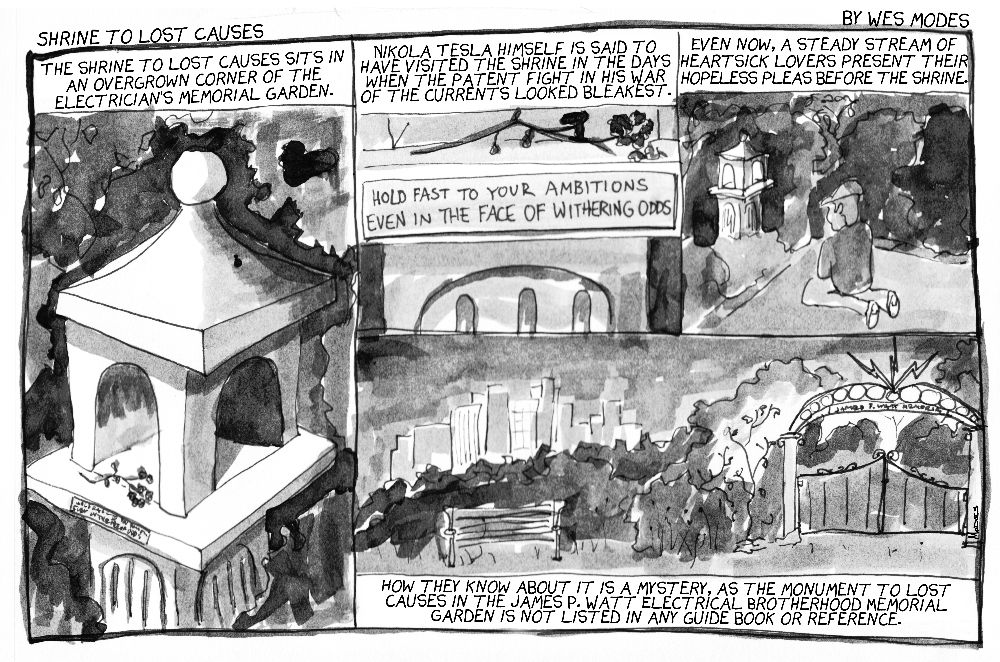 I discovered the comic book writing of Alan Moore when he was penning for Swamp Thing in the late 80s. I had no idea that comics could be an intelligent, thoughtful, emotional medium for adults, and I was floored.
I worked with graphic novel writer Harvey Pekar on a graphic novel about the Students for a Democratic Society
Prior to that, I had only been bored by hand-me-down trashy kids comics, Archie and Spider Man. No one introduced me to the alternative comics spawned in the 70s until years later.
Now I have a comics library that spans a wall, heavily focused on longer stories, graphic novels, and illustrated histories.  I was most inspired by the work of Ben Katchor and Craig Thompson, and inevitably my work owes these two very different artists a huge debt.
While I had been illustrating for projects for decades, I had not tried my hand at a comic until after my first punk rafting journey in 2005. In the months after, I created a comic which captured the feel of our adventure.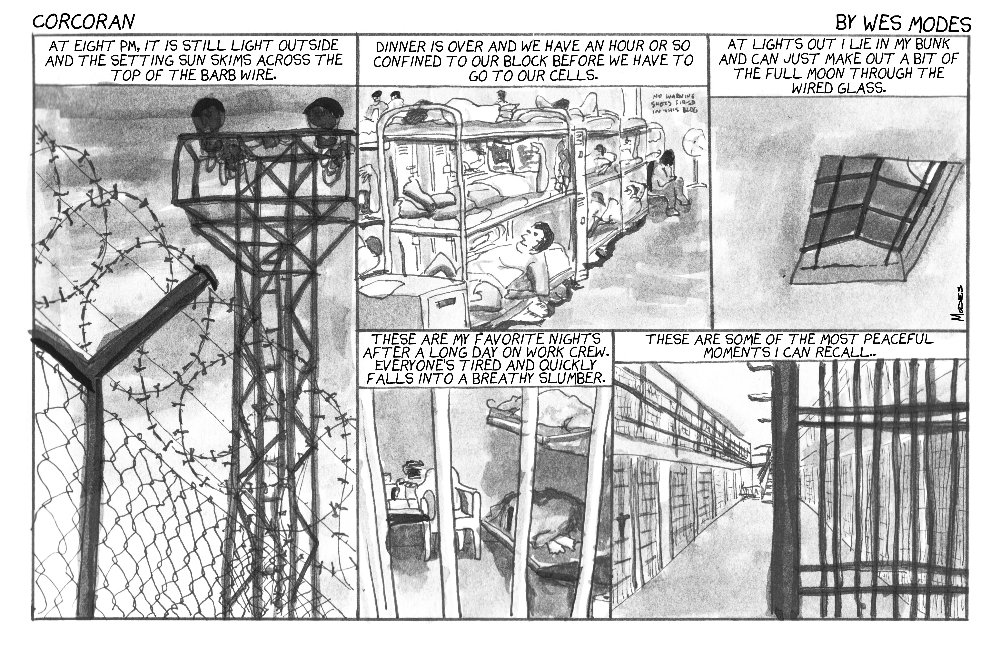 Shows
My comics have been featured in the following exhibitions and publications:
SubRosa Staff Art Show, SubRosa Community Space, Santa Cruz. June 2011. Group show. SubRosa is proud to present a staff art show of mixed medium pieces by 8-10 members of the Subrosa collective. Collectively SubRosa dabbles in a cornucopia of mediums drawing inspiration from the local community, other like-minded projects in lands far and near, and an undying love of anarchist ideals. From queer polyamorous love triangles, to consensus meetings, to cats, to making sauerkraut, to busking on Pacific avenue SubRosa always brings a deliciously earnest amount of love, respect, and optimism to whatever they do.
Times Square by Howard Zinn. "A comic adaptation of a Howard Zinn story edited and illustrated by Wes Modes. It's quite short and strong, chronicling Howard Zinn's introduction to radicalism." (Modes, Wes, and Howard Zinn. Times Square. Strangers in a Tangled Wilderness, 2008. Print.)
Students for a Democratic Society: a graphic history. "In Students for a Democratic Society: A Graphic History, the famed graphic novelist Harvey Pekar, the gifted artist Gary Dumm, the renowned historian Paul Buhle, and a marvelous cast of they-were-there contributors illustrate their struggle, bringing to life the tumultuous decade that first defined and then was defined by the men and women who gathered under the SDS banner." (Pekar, Harvey, Gary Dumm, and Paul Buhle. Students for a Democratic Society: A Graphic History. New York: Hill and Wang, 2008. Print.)
The SDS Comic Show, Brown University, Providence, RI. April 2007. An exhibition exploring the history of Students for a Democratic Society, as well as the art and process of comic book creation, will be on display at the John Nicholas Brown Center at Brown University. The exhibition, curated by Brown students under the auspices of the Public Humanities Program, is composed of pages and panels from the forthcoming Students for a Democratic Society: A Graphic History (Hill and Wang), scripted by Harvey Pekar and edited by Paul Buhle, senior lecturer in American civilization and history at Brown.
Comic Artists Panel, Providence, RI. April 2007. Panel discussion on Students for a Democratic Society: A Graphic History, which is the first in a series of nonfiction collaborations between Pekar and Buhle. In addition to Pekar and Buhle, book artists Summer McClinton, James Cennamo, Wes Modes, and Nick Thorkelson will participate in the panel.