I'm participating in Fun-a-Day 2014, a daily art challenge through the month of January, committed to do a daily post here detailing some Big Art Idea or project that looms somewhere out in my future.
I love old music, old music players, and especially weird cross-genre covers. So this project would be a beautiful perfect storm of esoteric interests.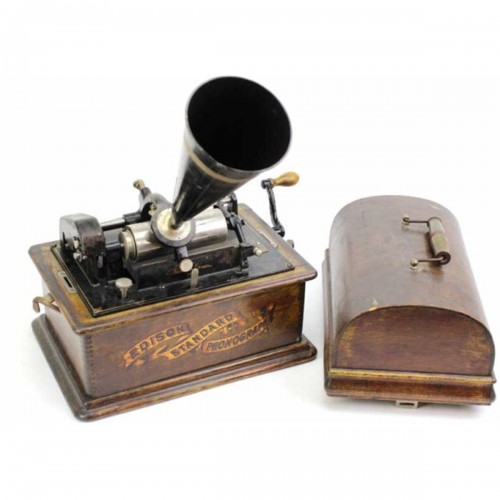 So if you are not familiar with the old Edison phonographs, they use a wax cylinder the way that later phonographs used a wax disc, with a needle that rides in a groove whose vibrations are turned into sound.
Now imagine an old wax cylinder in a phonograph playing a ragtime version of Smells Like Teen Spirit or Solitary Man. A little searching reveals that I'm not nearly the only person a little obsessed with this idea.
Click these titles to expand the videos:
Tainted Love (1965) by Ed Cobb, Gloria Jones
A supremely excellent version created for the video game Bioshock Infinite which takes place in an alternate timeline of the late 19th century. Also in this collection:
Beach Boys – God Only Knows (1966)
Elizabeth Cotten – Shake Sugaree (1967)
Creedance Clearwater Revival – Fortunate Son (1969)
Robert Hazard, Cyndi Lauper – Girls Just Want to Have Fun (1983)
Calliope / steam organ / steam piano, Jim Bonney cover…
Tears For Fears – Everybody Wants to Rule the World (1985)
Scott Bradlee cover, Scott Bradlee's Channel: http://www.youtube.com/user/ScottBradleeLovesY…
Shiny Happy People (1991) by R.E.M.
Listen to the late 20th century covers in this collection: Bioshock Infinite Music – Columbia's Anachronistic Hits
Star Wars Cantina Band Ragtime Piano Duet

Played by Martin Spitznagel and Bryan Wright
Somebody That I Used to Know by Gotye

Covered by Danny Hayes
Creep by Radiohead

Covered by the Canton Bluecoats Marching Band
Smells Like Teen Spirit by Nirvana

Covered by Always Drinking Marching Band
Thrift Shop by Macklemore
Hash Pipe by Wheezer

Covered by Thomas Jefferson and His Ragtime Orchestra
I was imagining Tin Pan Alley, Sousa Band, Ragtime, Waltz, and Yiddish covers of the late 20th century and early 21st century musical canon.
Do machines still exist to cut new music into Edison wax cylinders? Could they be made out of other more durable materials? Would you want to? I'm into it, as I always am into the idea of horribly ridiculous low-fidelity audio.
As an aside, yes, it is possible to create new cylinders. Here's Susanne Vega cutting Tom's Diner at Thomas Edison National Historic Park.
Here's a high-tech machine to carve new Edison cylinders: www.christerhamp.se