In 2010, UBEW hosted an epic fundraiser for Riseup, a service provider for the radical community, and UBEW.  This was a steampunk-themed evening of entertainment complete with silent auction, including Geek Dates (think tour of Stanford Linear Accelerator), techno destruction (nuking of a cell phone and sledgehammering a fax), fabulous live period music, tremendous food, and a live for real pugilism match.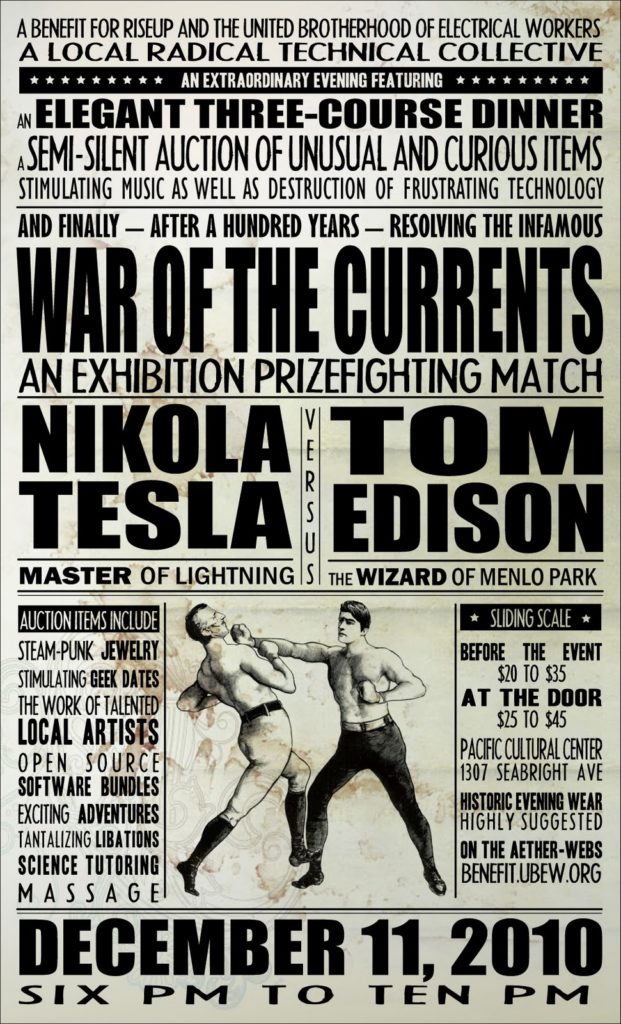 Join us for a spectacular & historic evening of unusual proportions. A costume benefit featuring an elegant three-course dinner, a semi-silent auction of most unusual items, stimulating music, and finally resolving the infamous "War of the Currents" after 100 years, an Exhibition Prizefighting Match between Electrical Engineering Heavyweights "Master of Lightning" Nikola Tesla and the "Wizard of Menlo Park" Tom Edison.

This is a benefit for tech collectives Riseup and UBEW. Historic Eveningwear (late 19th Century Formal Wear and SteamPunk) strongly suggested.

You are invited. It will, we believe, be quite an extraordinary affair.
This is an event that took months of planning and raised over $4000 for UBEW and Riseup.net.