What Is Art? was a tiny, 50-person-capacity venue run by a collective of people from the Santa Cruz art and music scene. It ran out of a North Pacific storefront from the mid-90's until 2000.
I served as a collective member of What Is Art? from 1998 to 2000. I organized shows, performances, and often bottomlined Open Mic.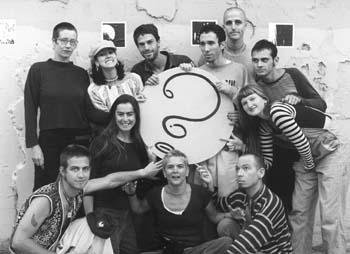 "I was flooded out of my studio and needed a place to sew," says Lopie LaRoe. "I started to have the Anarchist Coffeehouse here, which turned into open mic. Hardly anyone showed up at first, except for this annoying guy with a box on his head."
It offered a Wednesday open mic that sometimes had more empty seats than performers and audience. Other times, there were people sitting in the aisles, and standing room only in the back.
In 2000, developers condemned the space to make room for a building project. The space sat tantalizingly empty for years until wreckers tore the entire block down along with the original Bike Church and Ped-X space and numerous art warehouses. For ten years, the empty lot, former location of What? was an empty blight. Finally, just in time for the worst economic era in memory, developers built an entire block of ugly condos that no one could afford to buy.