In July, 2013, I exhibited at Zero1 in San Jose, demonstrating the art and technology of DIY raft building, sharing photos, and talking about my experience since 2005.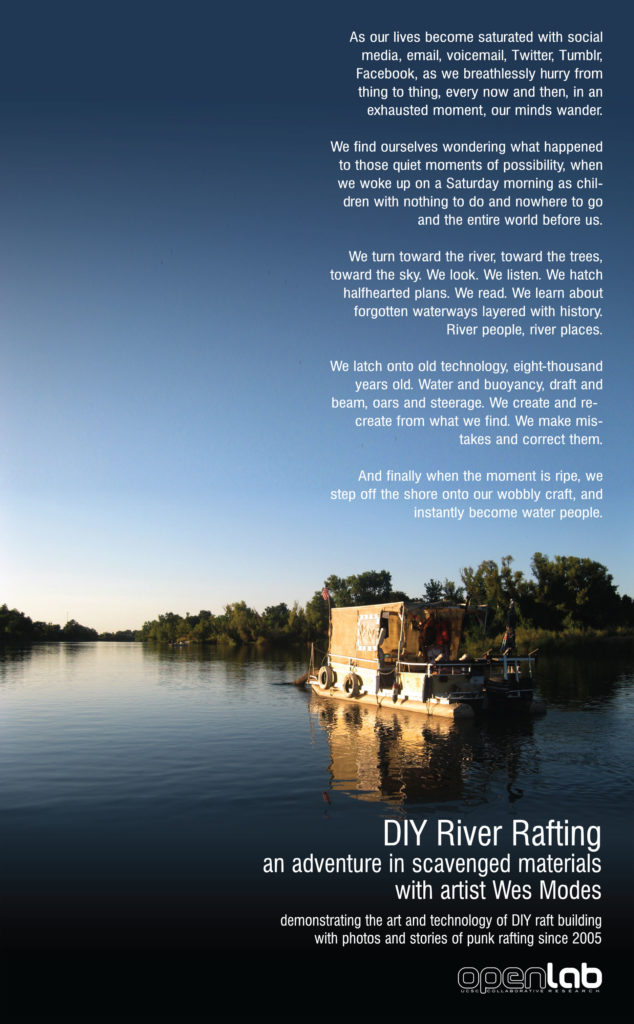 I was invited to show at the ZERO1 Garage in downtown San Jose. "Working with some of the most fertile and creative minds from the worlds of art, science, design, architecture, and technology, ZERO1 produces the ZERO1 Biennial, an international showcase of work at the nexus of art and technology and the ZERO1 Fellowship program where principles of artistic creativity are applied to real world innovation challenges."
ZERO1 is a gallery space that focuses on art and technology, so I thought it appropriate to embrace a 7000 years-old technology that literally changed the world. I agreed to put together an installation representing some of my DIY River Rafting experiences over the last eight years.
A few of us set out on a punk rafting journey, driving cross-country to Omaha, Nebraska, building a raft out of found and scavenged materials and floating for a week, Huck Finn-style, on one of the largest fastest rivers on the continent, the Missouri River. We barely lived to tell the tale, and so year after year, we took longer and longer adventures, floating many major American rivers on completely ridiculous homemade rafts.
After that first single raft trip, we invited others, launching with whole punk raft flotillas.
It changed the way we saw the world, opening us up to new possibilities.
The forgotten river that flows through most towns, often culverted, shoved underground or behind the grubbiest neighborhood. It was the old freeway, before the railroad, before cars, the only way goods and people moved rapidly about.
Rivers and bays and estuaries, so important they get special attention in the constitution of many U.S. states:
No individual, partnership, or corporation, claiming or possessing the frontage or tidal lands of a harbor, bay, inlet, estuary, or other navigable water in this State, shall be permitted to exclude the right of way to such water whenever it is required for any public purpose, nor to destroy or obstruct the free navigation of such water; and the Legislature shall enact such laws as will give the most liberal construction to this provision, so that access to the navigable waters of this State shall be always attainable for the people thereof.

The Constitution of the State of California, Article 10, Section 4
And yet, too often the access to these rivers is cordoned and restricted, the better to keep the undesirables who too often wisely flock to the river's edge to recreate on a summer's day or make their sketchy abode.
These overlooked waterways, so forgotten that the people who lived in the towns from which we launched our rafts often argued with us about where the river went, where they came from, whether they were navigable or safe, and even what direction they flowed.
We bring the punk raft to the ZERO1 Garage in downtown San Jose, a cavernous gallery space in which to talk trash-built river rafting, punk engineering, and DIY adventuring.
This was to be a half-sized demonstration raft. The process recalled the many rafts built while camped out beside the waters of some major North American river.
From a giant pickup truck load of miscellaneous crap, the raft slowly takes shape in ZERO1's gallery space.
OpenLab Workshop – Raft Building | ZERO1
www.zero1.org
Wes Modes will demonstrate the art and technology of DIY raft building, share photos, and talk about his experience since 2005. Workshops Wednesday 7/24 2-5pm and Friday 7/26 6-9pm. At ZERO1 Garage, 439 S. 1st Street, San Jose, CA 95113
Below are two 'zines created by the author:
The Good Ship Abandon
the story so far
A graphic adaption of an adventure building a raft out of trash and floating more than a hundred miles on the perilous Missouri River, one of the fastest flowing rivers in North America.
Punk Rafting Adventure
yours for the taking
A 'zine in preparation for a journey with friends on the Willamette River based on a half decade of DIY river rafting.